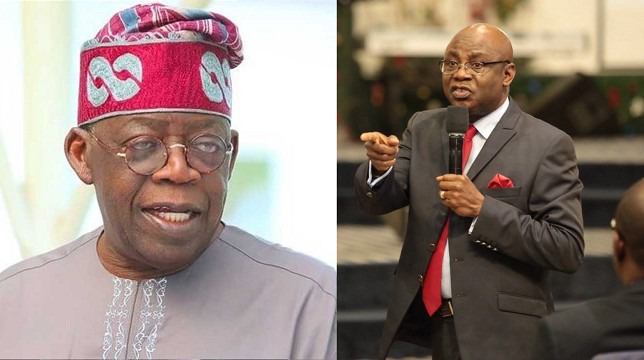 The raging controversy, that has been generated since the convener of the concerned Nigerian, Deji Adeyanju petitioned, Economic and Financial Crime Commission (EFCC), has been so enormous.
The media was awash with various reports, while APC was quick to react, to defend their National Leader, Senator Bola Ahmed Tinubu. APC claimed that Tinubu as a private citizen, cannot be investigated, stated further that, he can hold any amount of cash as he is so wished.
But Adeyanju Deji, in his social media post, reacted swiftly and was quoted as saying that "According to APC because their Asiwaju is a Private Citizen, he cannot be investigated by @officialEFCC. Are Yahoo Boys not private citizens?"
Some members of the ruling APC, are of the opinion that Deji may be working for some interests, who are hell bent on truncating the Presidential dream of Asiwaju Bola Ahmed Tinubu.
Tinubu ordeal, didn't stop with the petition sent to the EFCC by Adeyanju and his team. A fierce preacher, who many also called a radical activist pastor, Tunde Bakare on Sunday, sent another heavy knock in the direction of Senator Bola Ahmed Tinubu, when he said that a person in Bourdillon, a Presidential "Hope-fool" will vomit all he has swallowed.
Bakare, had earlier declared during a church service, before his congregation that, god revealed to him, that he would be the man to succeed Buhari in 2023, a position Tinubu himself is eyeing. The question begging for an answer is that, is Bakare throwing all the jabs, to demarket Tinubu, who appears to be his competitor in the bid to succeed Buhari?
Senator Tinubu, sometimes ago, received another direct tackle from Governor of Kaduna State, Mallam Nasiru Elrufai, when he posited that it was easy to sack a godfather in Lagos State, boasted that he did it in Kaduna, that same can also be done in Lagos.
The fact of the matter is that, Tinubu haven spent eight years as a governor of Lagos, and as an elected former Senator, he has become a public officer, who must conform with the rules, especially on money matters and other financial guidelines of the country, as a politically exposed person (PEP).
The bone of contention is the fact that, Senator Tinubu himself, has confirmed that he actually owned the money in the bullion vans, found in the premises of his Ikoyi home on an even to the presidential election.
On the part of the EFCC, it rests on them to either show that, nobody is above the law, or take the fall for the issue. The Chairman of the EFCC, Mr. Ibrahim Magu, has on several occasions proclaimed that, the commission under his leadership will not spare any Nigerians caught in any financial crime, no matter how highly placed.
But, another angle to this issue is that, nobody can tell, the source of the money, except Senator Bola Tinubu himself, clears the air, or EFCC conduct and extensive investigations, to determine the source of the funds, if they were illicit funds or not.
As the petition submitted by Adeyanju continues to generate more reactions, from those who are for and against it, he confirmed to those who knows him that, he is not being sponsored by anyone, to petition EFCC against Senator Bola Tinubu. In fact, he said, it was the EFCC who made a tweet calling on Nigerians to send petition against anyone who is corrupt, for investigation, and that was one of the reasons for the petition.
Adeyanju said, "The reason why we want EFCC to investigate Tinubu, is because, we know that that he is not the Central Bank of Nigeria (CBN), and as such, he should prove the source of the money, bullion vans took to his house, on an eve to the 2019 Presidential election"
It is now obvious that since Adeyanju has opened the way, more Nigerians and groups, will begin to send petitions against leaders they perceived to be corrupt, or have plundered their commonwealth. If this is happening frequently, public leaders will be forced to be accountable to the people.