Governorship candidate of the Action Democratic Party (ADP) in 2019 election, Mr. Babatunde Olalere Gbadamosi, who scored less than 5000 votes, has attacked the former governor of Lagos State, Senator Bola Ahmed Tinubu again. 
Gbadamosi is the owner of vast and popular Amen Estate in Ibeju Lekki axis of Lagos State.
He was also a governorship aspirant under the Peoples Democratic Party (PDP) in 2015, alongside Jimi Agbaje, Musiliu Obanikoro and others but lost out the ticket to Agbaje and later defected to ADP. 
BOG as fondly called, wrote on his Twitter page: "Lagosians are fed up of labouring in @AsiwajuTinubu 's vineyard".
"1. Sade Tinubu, daughter – MARKETS, with revenue reportedly over ₦500b/year".
"2. Seyi Tinubu, son – OUTDOOR ADVERTISING reportedly pulling in over ₦0.5t/annum".
"3. Fola Tinubu, nephew – TRANSPORT, BRT".
#OTOGELAGOS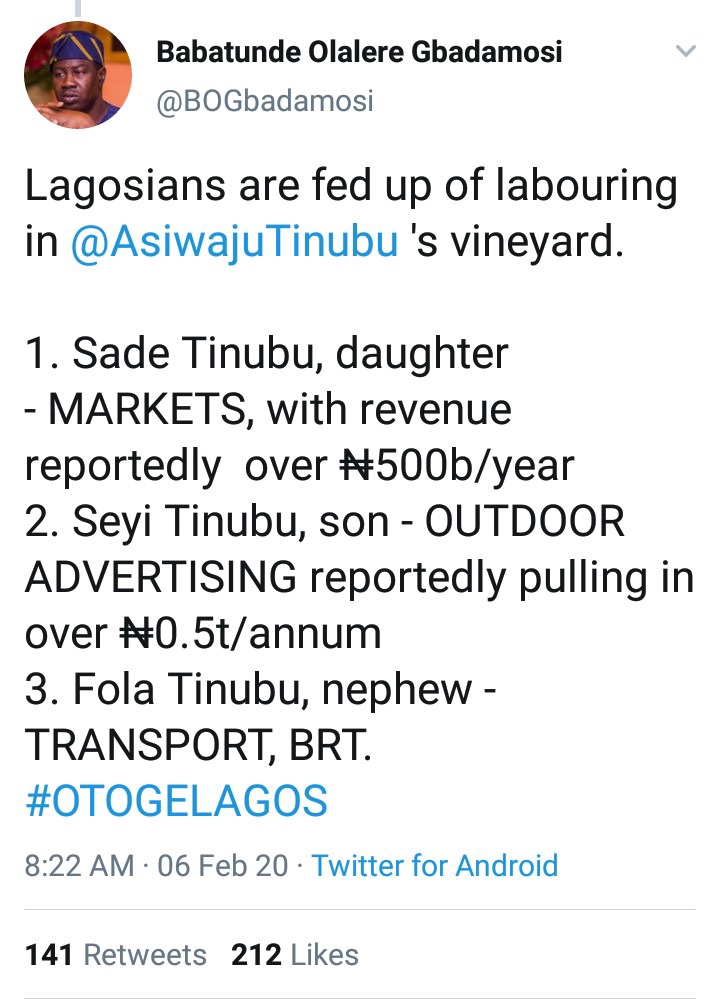 The allegations made against Tinubu and his family members by Mr. Gbadamosi are heavy, with no evidence and has not been substantiated.
Just like how the former strong man in Kwara politics, Bukola Saraki, was chased away with Otoge revolution, Babatunde Gbadamosi has launched the campaign (Otoge Lagos) on social media, ahead of the 2023 elections.