Today's Headlines: What Fayemi Did After Stepping Down For Tinubu, We've Counted 38 Bodies- Rev Jude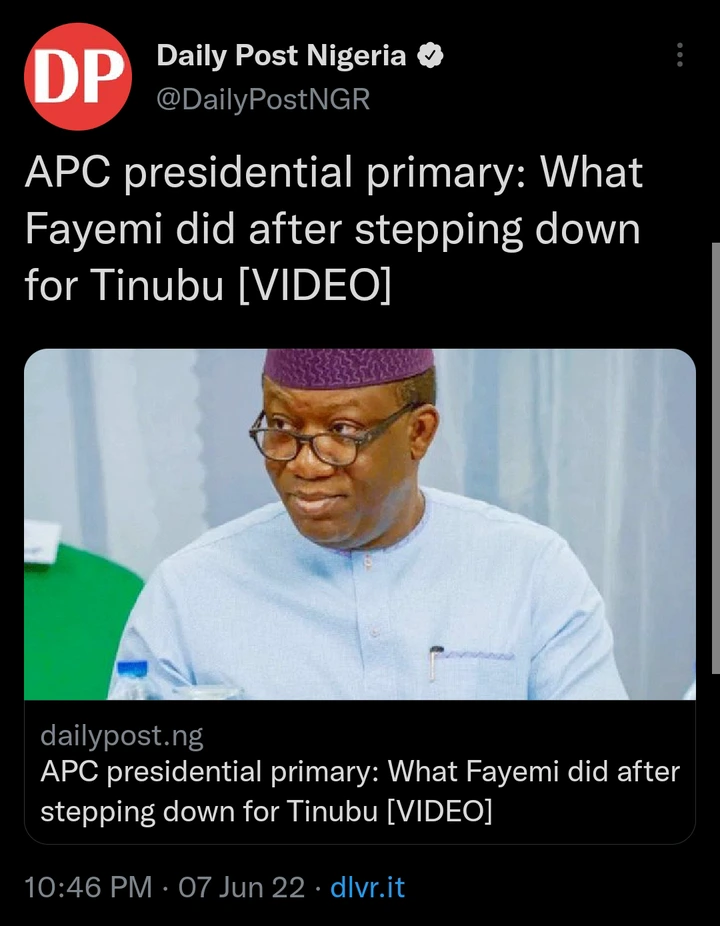 Photo credit: Daily post
Governor of Ekiti State, Kayode Fayemi, on Tuesday night stepped down for the National Leader of the All Progressives Congressive, Bola Tinubu.
Fayemi claimed he was still young and has a long political career ahead of him.
"I have come to a necessary and difficult decision. And that is to step down. "I am prepared to sacrifice my ambition to be president of Nigeria.
Fayemi then shook his hands and current Governors of Lagos and Kaduna, Babajide Sanwo-Olu and Nasir El-Rufai, approached them.
Meanwhile, two presidential aspirants, ex governor Godswill Akpabio and Ibikunle Amosun threw the Eagles Square venue of the ongoing presidential primary of the ruling All Progressives Congress into excitement as they announced they are stepping down for former Lagos governor Asiwaju Bola Ahmed Tinubu.
Governor Kayode Fayemi of Ekiti State also joined them to endorse Tinubu
The aspirants asked their supporters to vote for Tinubu as they acknowledged that he has the competency to rule the country.
They also promised to support him if he elected the president of Nigeria.