Daniel, Isiaka, PDP , others meet Gov. Abiodun in Abeokuta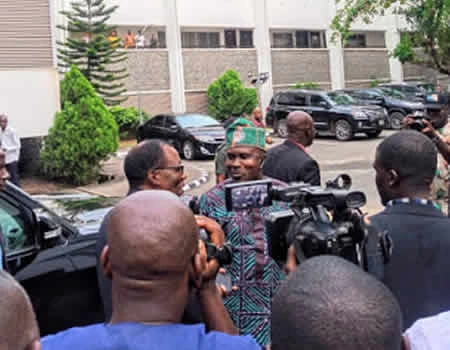 Former governor of Ogun State, Chief Gbenga Daniel, the governorship candidate of the African Democratic Congress (ADC), Prince Gboyega Nasir Isiaka and leaders of the Peoples Democratic Party (PDP) led by Chief Adebayo Dayo, on Tuesday, met with the Ogun State governor, Prince Dapo Abiodun.
Daniel, who held sway as the state helmsman from 2003-2011 returned to the state Governor's Office, Oke-Mosan since he left the office at about 5.39 pm.
He was received by the Chief of Staff to the Governor, Alhaji Salis Shuaib and went into a closed-door meeting with Abiodun.
Governor Abiodun had earlier in the day met with Dayo and other leaders of PDP and Isiaka for almost three hours.
The motive behind the meeting could not be unconnected with the cabinet list of governor Abiodun which is being speculated might be released before the end of this month.
Abiodun had always promised to run an all-inclusive government since he came on board as the number one citizen of the state.
Speaking with newsmen after his meeting with the governor, Dayo, who is the factional state chairman of the party, said he and other PDP leaders came to congratulate Governor Abiodun, on his victory at the polls.
He also expressed confidence that the governor would deliver good dividends of democracy to the people of the state, hence the need for all opposition parties to support his lofty ideals for the state.
According to him, Abiodun is not only the governor of his party, the All Progressives Congress (APC), but governor to all.
Dayo said, "I came here with leaders, from West and South. I am here as a chairman of PDP in Ogun state coming to congratulate Dapo Abiodun of Ogun state.
'"I came to to visit my governor, particularly the governor that is doing very well."
Isiaka while speaking with newsmen said he was not in any meeting with tbe governor but came to meet a government top official.
As at the time of this report, 7.34pm, ex-governor Daniel, is still in a meeting with Governor Abiodun.