Ex-US President in "divorce" suit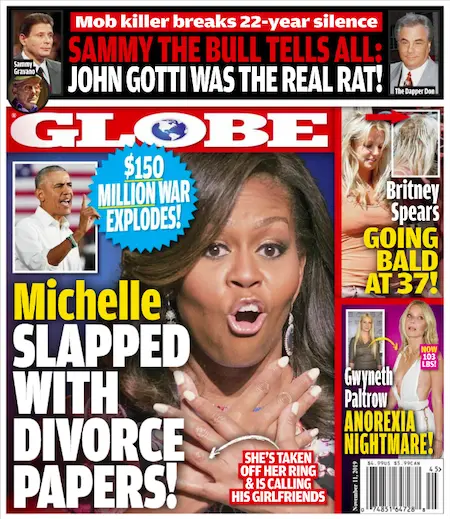 Barack Obama and Michelle Obama aren't getting divorced. It's just a bogus rumor being spread by a tabloid. Gossip Copfound the story ridiculous.
The cover of this week's Globe is alleging that Barack has secretly "slapped" Michelle with divorce papers. The tabloid's insiders claim the former president was tired of having a "toxic marriage of convenience" after "a series of nasty fights." The bombshell proof, says the outlet, is the fact that the two have both been photographed without their wedding rings.
"Michelle had divorce papers drawn up by her lawyers, and the word is Barack has taken things a step further by serving Michelle with papers of his own," says an alleged source. The "insider" doesn't clarify how responding to divorce papers with divorce papers is an escalation. "She was shocked, as you can imagine," adds the supposed tipster, "but now she's conspiring with her lawyers to squeeze Barack for as much money as she can."
"He's refused Michelle's demands for alimony," the questionable source continues. "Word is, Barack thinks it's ludicrous because she can clearly support herself. Michelle's not only written a best-selling book, she has a law degree. She can go back to work anytime!"
The seemingly phony insider further claims that Barack is adamant about keeping their property in Martha's Vineyard, and then rattles off a list made-up fights between the couple. These outrageous claims range from allegations of infidelity to faking their marriage for political gain. The tabloid then points to its previous "report" about Barack ripping off his wedding ring and throwing it at Michelle in a recent fight over her "luxury-loving ways," and with that, we've reached the crux of this latest article: their rings.
Aside from the variety of anonymous sources, the only proof the tabloid has is the fact that Michelle uploaded a photo on Instagram of her exercising without her ring, and that Barack was spotted without his ring during a speaking engagement. This is the same evidence the outlet pointed to in its first iteration of this rumor. The only problem is that Gossip Cop thoroughly debunked Globe's initial report of the Obamas "$150 million" divorce.
As we previously reported, Barack frequently takes off his ring during public events to avoid having anything happen to it while he's distracted shaking hands. Meanwhile, Michelle obviously just temporarily removed hers as she was working out with heavy weights that could easily damage her ring or finger if she kept it on.
The former first lady's wedding rring was back on her finger in every one of her Instagram photos posted since the workout snap — including those from this week's 2019 Obama Foundation Summit. The couple hosted the event, which saw them deliver a number of speeches together without a hint of the tensions or anger that the tabloid claims has ravaged their marriage.
Of course, the publication doesn't bother mentioning the fact that both have been spotted with their rings since their fictional fight. The outlet's sources clearly don't actually have any connections to the former president or first lady. If a former president does actually divorce their spouse, we expect to hear the news from more than just a single gossip outlet with a track record of printing fiction.