Breaking: Moment of Pride As Billionaire Extraordinaire, Mike Adenuga, Partners French Company, EutelSat in Multibillion-dollar deal with French President, Emmanuel Macron, as Witness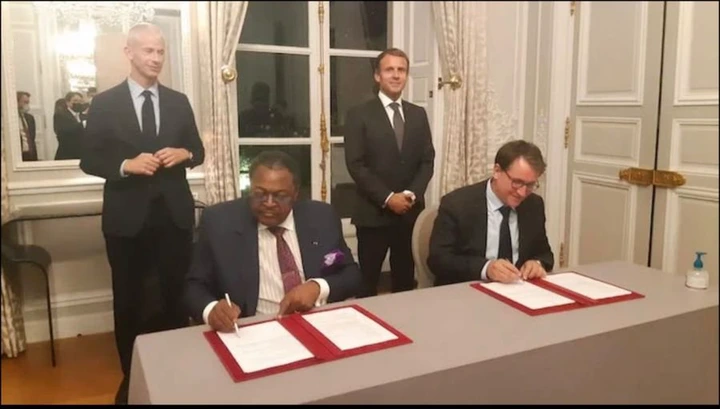 L-R) French external commerce minister Frank Riester, Globacom Chairman Mike Adenuga, President Emmanuel Macron, and EutelSat CEO Rodolphe Belmer
The chairman of Globadeed, a miracle-working businessman, Adenuga has done it again! He has signed a multibillion-dollar partnership with French satellite communications group EutelSat. The gigantic partnership was signed at the Elysée event on September 30.
As the Globacom chairman signed the deal with a EutelSat representative, French President Macron watched from behind, grinning in apparent satisfaction.
A partnership between the two companies should see the deployment of 500 Wi-Fi relay stations to far-flung rural areas, for connection to a EutelSat satellite. Likewise, French group Vocalcom, which already manages the software for Glo Telecom's call centres in Nigeria, is hoping to cement a new deal in the mobile-money sphere with Glo.
According to the multi billionaire, his franchise's relationship with the French telecoms giant has been a long and extremely beneficial one. "The genesis and bedrock of that relationship was the energy team at the Banque Nationale de Paris (BNP) Paris office, led by Guillaume Leenhardt. A great deal of our early success can be attributed to the professionalism, customer orientation and creativity of that team," says Adenuga.
He states, "We worked extremely hard and well together to meet some ridiculously tight deadlines – working through the night till 6am only to resume work again at 8am after a quick nap and shower! Those are days I remember with a lot of fondness.
"Soon after the award of our telecommunications license in 2003, our relationship with another prominent French company, Alcatel, led at the time by Serge Tchuruk, enabled us to fast-track the roll-out of our infrastructure and close the gap on the competition, which had had a 15-month head start."
Interestingly, however, back in 2017, the French government, in homage to Adenuga's humanity and relentless strides at rewriting the African business narrative, invested him with a Knight of the Legion of Honour (Chevalier de la Legion d Honneur), the highest French decoration and one of the most famous in the world.
Dr Adenuga is the only and first-ever Nigerian to have received the award since inception. He was honoured for his "remarkable contribution to the development of the French-Nigerian relations and appreciation of the French culture."
Adenuga would later prove that the honour was not misplaced as he relocated and rebuilt the Alliance Française, located in Yaba, Lagos, for several decades. The Alliance Française, committed to promoting French culture and teaching French as a second language worldwide, was relocated to a new home in Ikoyi that has been aptly named the Mike Adenuga Centre. Since its opening to the public in 2019, the centre has commanded commendations from far and near. Unapologetically modern, the centre's white exterior spews elegance without recourse to obscenity and has an interior ornamented with pristine decor.
Everywhere is spick-and-span and has the halo of an improvised Eden on earth. Apart from a spacious car park, the venue offers facilities such as a world-class art gallery, a French restaurant with a bakery, a state-of-the-art cinema, artists' studios, an outdoor amphitheatre, a library and e-library, nine fully-equipped French language classrooms, translation and interpretation service, Campus France branch, offices and much more.
Every house has something of the owner's personality in it, a hint of the people behind the design; no wonder the centre has the touch of a billionaire with a taste for all things exotic and exquisite. Its beauty has been inspiring gawks and double-takes, and odes and appreciation to Dr Adenuga, whose love for the arts spurred him to create this hub of cross-cultural immersion to make an exciting and impactful contribution to the arts scene in Nigeria.
While inaugurating the centre during a visit to Lagos, President Macron said the centre to foster friendship between Nigeria and France, saying, "Lagos is one of the challenges of, not only Nigeria but Africa. This huge city is a tremendous challenge about how to make people live together in peace and better society; I want France to be part of this story. I do want my country and citizens to be part of this experience, which means sharing the same values, cultures, languages, literature, music, movies and common economic projects, among others."
He added that the Alliance Française is a commitment aimed at making the friendship between both countries, which have different but vivid and vibrant cultures and lifting barriers that have existed between both cultures. "The common space we have is not linked to language or country. We are different people, but we share the same values, and it is precisely these common values we want to convey," Macron said.
Coincidentally, it was at the hallowed hall of the Alliance Française that Bella, one of Adenuga's daughters and the executive vice-chairman of Globacom, was honoured with the 'Chevalier dans l'ordre des Arts et des Lettres' (the Order of Arts and Letters). It is an award given by the French government to recognise eminent artists and writers and people who have contributed significantly to furthering the arts in France and throughout the world. The award is given at three levels: Commandeur (Commander), Officier (Officer), and Chevalier (Knight). Bella got the Chevalier (Knight), which comes with a medallion worn on ribbon on the left breast in 2019. According to the representative of the President of France, Bella was honoured for having shown an abiding commitment to important social issues and her "significant contribution to the enrichment of the French cultural inheritance