Gratefully, the people of Southeastern Nigeria, Anambra state in particular, could finally heave a sigh of relief as the newly launched Exercise Golden Dawn begin operations to neutralise the operatives of unknown gunmen, that have kept the people of Anambra state on their toes with their nefarious activities.
Recently, it was reported that some operatives of the unknown gunmen attacked a police checkpoint in Anambra state and destroyed about 3 security vehicles.
The news of this attack created tension in Anambra state as many people became concerned over the competence of Exercise Golden Dawn in checkmating these unknown gunmen.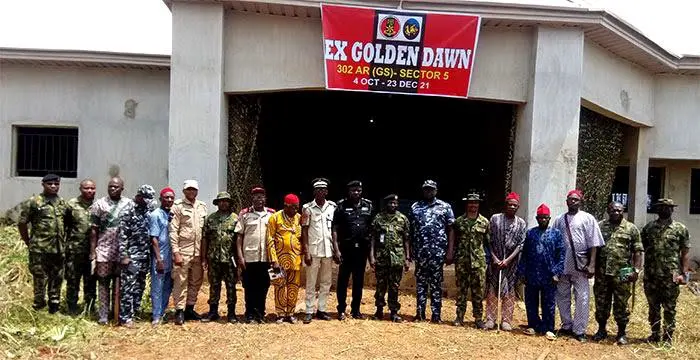 (A photo from the launching of Exercise Golden Dawn).
However, with a recent report from the Nigerian Army, the fears of the citizenry have been allayed while the competence of the Exercise Golden Dawn has been re-established. According to the report, the unknown gunmen who recently attacked a police station in Anambra state have been neutralised by the operatives of the Exercise Golden Dawn.
The troops attached to sector 5 of Exercise Golden Dawn engaged the gunmen in a fierce gun duel and three of the gumen succumbed to the troops excellent firepower while others scampered for safety with gunshot wounds.
The report also recorded that the troops recovered one vehicle and two motorcycles, during a further search for the fleeing gunmen.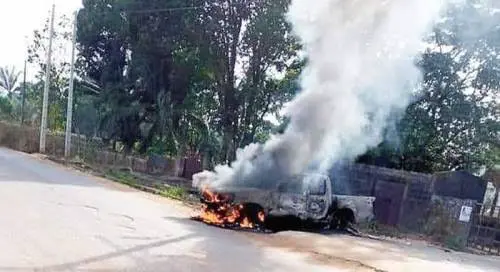 (A razed police vehicle).
Going forward, it is very clear that the end of the unknown gunmen is very much around the corner as the operatives of the Exercise Golden Dawn would be in Anambra state till December 23.
Over the past few weeks, the unknown gunmen have effortlessly terrorised Anambra state and it's environs with little interference from security agencies.
They have been maiming security personnels and top Igbo leaders in consistent attacks. And have recently began attempts to boycott the November 6 gubernatorial elections in Anambra state.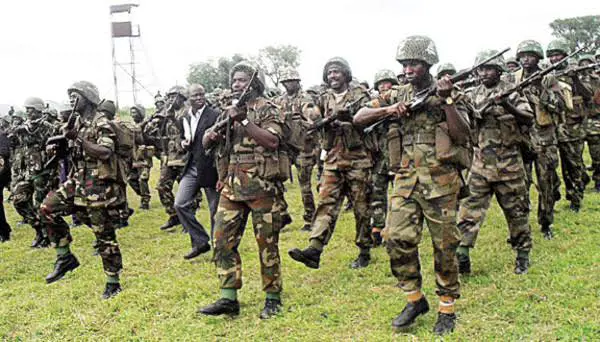 (Military).
However, from recent developments, normalcy would gradually return to Anambra state as the security operatives continue the battle against unknown gunmen