Shade Balogun, AMEN estate owner, shows off new look after divorcing Babatunde Gbadamosi
There really must be something about getting divorced that makes women more physically attractive than they were prior to the divorce.
This greatly explains the dramatic transformation of Shade Balogun who is now looking nothing like she did when she was married to her third husband, Babatunde Gbadamosi, a former governorship aspirant in Lagos State.
A mother of five, three from her previous marriages and two with Babatunde, Shade, who is the chairman and CEO of Redbrick Homes International Limited, promoters and developers of Amen Estate, now looks surprisingly more attractive than ever.
Gone is the village grandmother look she paraded in the past and in its place is a more attractive looking woman.
Perhaps the new look is evidence that she has finally moved on from her failed third marriage and may perhaps be ready to mingle again.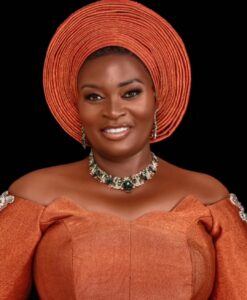 Shade who was married to Babatunde ended the union sometime in 2021.
While some claim their marriage ended because of Shade's alleged overbearing and nagging attitude, in addition to running her estranged husband down continuously, such as alleging that he was a postman in the United Kingdom who had nothing to his name before she agreed to marry him.
Those sympathetic to her claim that Babatunde allegedly impregnated a Nigerian lady based in the UK named Yinka Balogun, an accounting and finance specialist.
According to them, Babatunde's treachery earned him an expulsion from their matrimonial home and the business they both ran together.
Sade has since taken full control of the business and has been asserting her authority as the owner of the business.
However, the estranged couple is still in court over the sharing of the assets they allegedly owned.