Leaked Memo On Former CJN Shocked Us — Ariwoola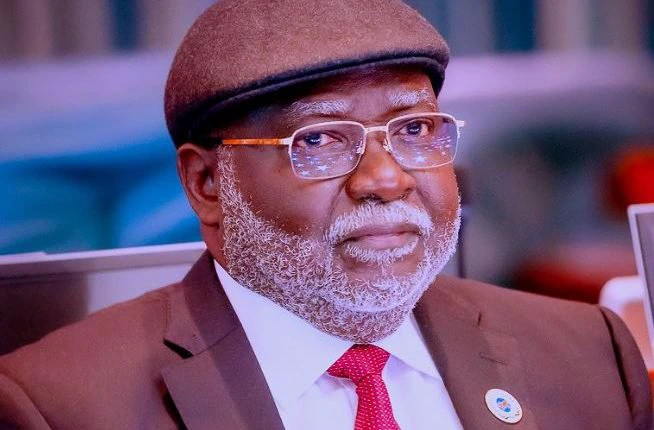 ABUJA – Justice Olukayode Ariwoola, the Chief Justice of Nigeria (CJN), on Wednesday revealed that leaked internal memo writ­ten by Justices of the Supreme Court to Justice Mohammed Tanko, former CJN, was an em­barrassment to the apex court.
The new CJN said this in Abuja while responding to questions posed by senators at his confirmation hearing at the National Assembly.
He said that the internal memo written by the Su­preme Court Justices was not a petition to or against Justice Mohammed Tanko, but a cor­respondence aimed at address­ing challenges of welfare and unconducive working environ­ment faced by them.
"Justices of the Supreme Court didn't write petition to or against Justice Mohammed Tan­ko as CJN few months back but memo where issues relating to welfare of each of the Justices and unconducive working environ­ment of Justices at the Supreme Court generally we reraised.
"We the Justices were em­barrassed when we read con­tent of our memo in the papers.
"It was never intended to be for public consumption since the motive behind the memo was not to fight or bring down anybody.
"When the hand written memo was signed by all the Jus­tices, we didn't allow anybody to see it, making its leakage to the media to be like a miracle to us", he said.
He, however, regretted that most of the issues raised in the memo are still not attended to, linking the situation to lack of fund and poor funding of the Supreme Court in particular and Judiciary generally.
"Some of the Justices ap­pointed in 2020 have not gotten official accommodation, mak­ing them to be coming to office from satellite towns within the FCT.
"Judiciary of Nigeria must be properly funded, we should not beg for our entitlements.
"More Justices need to be appointed as out of 21 needed in the Supreme Court, only 13 are left and for expeditious consider­ation of cases, some of the cases should be allowed to stop at the Court of Appeal through consti­tution amendment to that effect.
"The National Assembly should please help in this regard by carrying out required consti­tution amendments needed", he added.
While explaining the causes of delayed administration of justice, the nation's number three citizen pointed out that as justice delayed is seen as jus­tice denied, so is justice rushed, justice denied.
According to him, the wheel of justice may be slow but as long as it is steady, justice will always be served on those who deserve it.
He explained the process of appointing judicial officers, insisting that it takes a lawyer to be at the bar for a minimum of ten years before securing appointment as Judge of state or Federal High Court and minimum of 15 years for such appointment at the Court of Appeal.
The CJN also disclosed that contrary to fears expressed by some lawmakers, there was no crisis among Justices of the Su­preme Court.
The Deputy President of the Senate, Ovie Omo-Agege; Chairman, Senate Committee on Judiciary, Senator Opeyemi Bamidele, and few others, had in their remarks before asking questions, expressed worry over the alleged petition written to Justice Mohammed Tanko by 15 other Justices of the Su­preme Court in June.
Satisfied with the responses by Justice Ariwoola, the law­makers in a unanimous deci­sion asked him to take a bow.
The now substantive CJN's screening lasted one hour be­fore the President of the Senate, Ahmad Lawan, put the approv­al to voice vote.
His confirmation is coming almost three months after his appointment by President Mu­hammadu Buhari.
He was appointed in June 2022 following which Buhari, in a letter dated July 26, asked the Senate to confirm his appoint­ment as the substantive CJN.
The president's letter read, "Pursuant to section 231(1) of the constitution of the Federal Republic of Nigeria, 1999 (as amended), I forward for con­firmation by the Senate, the appointment of Hon. Justice Olukayode Ariwoola as the Chief Justice of Nigeria."