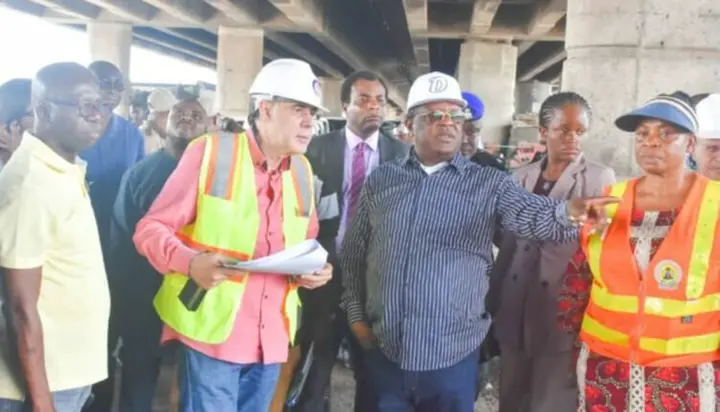 The development of road networks affects the devel­opment of national econ­omies and the improve­ment of people's living standards.
Today, the world's roads mainly include asphalt roads and concrete roads.
Cement concrete road pave­ment is a structure with strong bearing capacity and good sta­bility, and its raw materials are readily available and cheap in the country, making experts readily recommend it for sustainable mo­bility added to the comfort and safety it offers.
The major argument in favour of the use of concrete in the con­struction of roads in the country is its durability and it is compar­atively cheaper than making as­phalt roads.
It is a known fact that Nigerian roads have very short lifespans, with many of the roads deterio­rating, developing failed portions from as early as the first two years of their constructions, leaving road users in a state of shocks and the relief celebrated after the construction are short lived.
Road users were therefore, elat­ed when they heard David Umahi, Minister of Works insisting on constructing only reinforced con­crete pavement roads in the tenure of this government, which he in­sisted would last for 50 years, as opposed to asphalt roads that last seven years.
"Moreover, concrete is a main­tenance-free technology and is inexpensive to construct, and it will last 50."
It appears however, that since that decision was taken, contract­ing firms are not comfortable with it, with the Minister alleging that some contractors have ganged up against him over his insistence on the use of concrete in road con­struction in the country.
Mr Umahi, disclosed after a closed-door meeting with Presi­dent Bola Tinubu at the Presiden­tial Villa, "Nigerians are witnesses to the failure of asphalt, especially in the North-central part of this country and the entire Southern part of this country. And so, as­phalt definitely is a big problem.
"But if you insist you want to do asphalt that's not a problem, but the conditions are that you will guarantee Nigerians that when you finish this asphalt road, you are very sure it will not fail within at least 15 years," Mr Umahi said.
The minister also said "some el­ements" within the ministry were sabotaging the plans by the Nige­rian government to redesign and construct some yet-to-be-complet­ed federal roads using concrete.
He said "those elements" were fighting him because they had been benefitting from the system. He threatened to report them to the Independent Corrupt Practic­es Commission (ICPC).
"I will flush those elements out and send them to ICPC to handle them because nobody can hold this country to ransom," the min­ister said.
Mr Umahi said he had given the contractors "last chance to conform" to the use of concrete in road construction, adding that 14 days' notice had been issued to them to sign an addendum for con­crete road pavement.
The minister explained that given the increased cost of bitu­men from N576,000 to N1 million per tonne with attendant conse­quences on asphalt, contractors were likely to increase the cost of road contracts beyond five per cent. Bitumen is a black mixture of hydrocarbons used for road sur­facing and roofing.
The former governor added that, apart from the prospect of increasing the cost of contracts, contractors also engage in adul­terating the bitumen to cut costs.
"Why is it that when you bring bitumen here you are putting a modifier and enhancer? The question is, overseas, do they put all these things?
"So why would you allow adul­terated bitumen and then you come here you say you're putting a modifier," he said.
Mr Umahi contended that the use of concrete in road construc­tion in Nigeria would create jobs in the country because most of the raw materials are locally made.
"There is a catalyst in the use of concrete pavement. It will cre­ate jobs for our people. Everything about the construction is local.
"Ten manufacturers of cement have indicated interest to build cement factories. That is good for our economy. It will reduce pres­sure on the naira," the minister said.
"The road (built with concrete) is going to be much more durable. And some people say it's more ex­pensive. It's not more expensive. Some people even put three bind­ers on their road construction."
The minister further directed the contractors to meet with engi­neers of the ministry to redesign all the ongoing Federal Govern­ment road projects in line with the requirements of concrete technol­ogy. As a result, several ongoing highway construction projects will be stopped.
Meanwhile, contractors han­dling ongoing highway projects across the country protested against the directive, describing the move by Umahi as an alleged breach of contracts that could lead to huge losses on the part of the government.
They said the decision by the minister to abruptly order con­tractors to dump asphalt for con­crete technology was tantamount to "shifting the goalposts in the middle of the game."
According to them, construc­tion companies have invested sev­eral millions of dollars in asphalt technology equipment and also imported bitumen and other raw materials running into billions of naira, adding that shifting to concrete technology at the cur­rent stages of the road projects will lead to millions of dollars in losses.
Top officials of construction companies threatened that if the minister failed to reverse the di­rective, some contractors might have no other choice but to ap­proach the court to look into the matter.
A top executive of a leading construction firm, who chose to speak on condition of anonymity, said, "What the minister is trying to do will lead to chaos. This is one of the reasons foreign investors shy away from doing business in Nigeria-a situation where the gov­ernment wakes up and decides to change the terms of contracts. It is not done anywhere.
These contracts in question have been approved by the Feder­al Executive Council, Certificates of No Objection have been issued by the BPP.
The designs for the roads were approved by the Ministry of Works. Contractors have imported bitumen from overseas, personnel and asphalt technology equipment have been deployed in sites and works are ongoing already. How can these work stages be reversed just like that?"
Findings show that the minis­ter's directive will lead to imme­diate suspension of works on all sites across the country, redesign­ing of the roads from asphalt to concrete by the Federal Ministry of Works and Housing's Depart­ment of Highway (Bridges & De­sign), and re-tendering or varia­tion of contracts.
The Minister of Works, David Umahi, however insisted that there is no going back on the con­struction of concrete roads saying President Bola Tinubu has ap­proved that it should be enforced.
He, however, urged road con­struction companies nationwide to learn from the ingenuity of Ser­matech Nigeria Limited.
Sermatech is an indigenous road construction company cur­rently handling a 28.6-kilometre stretch from Odukpani to Itu in the ongoing dualisation of the Odukpani/Itu/Ikot-Ekpene Road which cuts across Cross River and Akwa-Ibom states.
Engineer Akin Oladejo, Senior Partner at Aktec Engineering Consult, Victoria Island, spoke with Daily Independent about his opinion on which of the road op­tion is best for Nigeria.
He said: "There is no simple answer to this question of which road is better, because there are different purposes for concrete and asphalt roads. When trying to choose between them it is im­portant to consider the specifics of the project first."
According to him; "Concrete roads have a long service life span of 20-40 years on average, whereas the life span of asphalt roads is 10 years. Though concrete provides more longevity and requires less maintenance, repairing it is the biggest problem. Holes or cracks cannot be simply patched, in­stead, the whole slab needs to be replaced.
"As asphalt does not last for a long time, it requires frequent repairs, the repairing and main­tenance are easier than concrete roads. Patching and relaying over the old layer is easily possible."
Engineer Oladejo continued, "Concrete road is more resistant as compared to asphalt road. They don't get damaged by leaking oils from the vehicle and other extreme weather conditions such as heavy rain, flood, extreme heat and other environmental hazards. Asphalt roads get damaged by heavy rain, flood, and other extreme weather conditions and require frequent repairs.
"Vehicles running over con­crete roads consume 15-20% less fuel than asphalt roads. They are also better for high truck volume because they hold up better under heavy weight and pressure.
"Asphalt is quieter than con­crete, providing a smooth drive to vehicles due to better traction and skid resistance. It also helps to keep roads free from snow and ice. But in the rainy and winter sea­sons, vehicles tend to slip and slide on concrete roads." He asserted
Oladejo however said, "the cost of concrete roads could sometimes be higher than asphalt roads, but for Nigeria with a high deposit of limestone it could be far cheap­er than expected. The concrete must be allowed to cure and gain strength over time before vehicles may run on it. If you have a sit­uation where traffic needs to get on the road quickly, asphalt traf­fic will be a better choice. Vehicles can run over it on the same day of paving.
"Concrete roads are environ­ment friendly whereas Asphalt produces harmful greenhouse gasses when melting for paving. It contributes to environmental pollution.
"Concrete roads are highly durable, costly, and environmen­tally friendly, requiring less main­tenance and having repair prob­lems. They are ideal for new roads and road expansion in urban areas and underground utility repair", he affirmed.