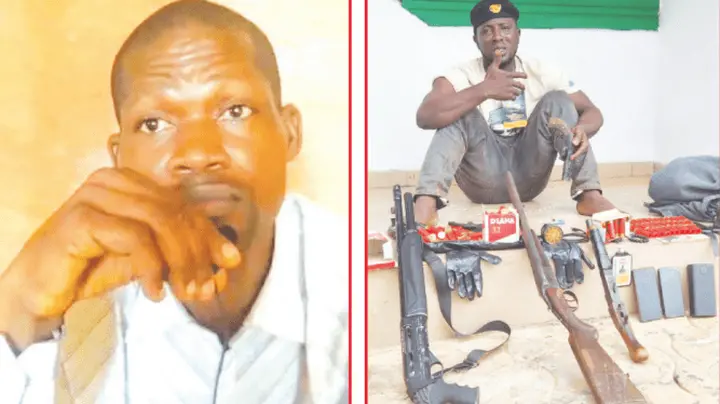 He claimed he spoke with some elderly persons within his neighbourhood about his predicament, and they advised him to either enlist in the Nigeria Police Force or some security agencies. Armed with such heads up, the suspect claimed, "I decided to join VGN in 2014. I obtained form for N20,000 at Quarry in Abeokuta. The day I got the form was the same day the VGN sold a jack knife and a pepper spray to me. It was same day I also bought chocker that looks like a gun.…CONTINUE READING
When I started the security work, I also joined the So-Safe Corps, Agbekoya, and teamed up with three other persons. Four of us began curbing crimes within the community town. 'In 2017, I bought my first gun from an hunter called Victor who came to hunt with other hunters around the farm I worked. I later discovered that its butt was always shaking whenever I shoot, I cut it to size, and to ensure that the butt is balanced, that's the reason I wrapped it with black cellotape."
He continued, "When we came for a meeting in Abeokuta, I was introduced to some units Commandants of my group because when I obtained the form they got to know that there was no VGN at Ososa, so I was made Ososa Unit Commandant by the State Commandant, named Adedoyin.
How he came across the pastor
Speaking on his relationship with Pastor Olayode, John claimed that the pastor sold him a gun, John said, "I got to know the Redeemed Pastor through Opeifa. At that time, he called himself an Inspector and I saved his name as Inspector Ola. Inspector Ola sold the double barrel rifle to me at N200,000 in 2020. Since then I was doing my work with the Police, when we went for another meeting, I was introduced to a Commandant name Sullyan at Munipa who took me to Obalende Police Station in order to work with DPO Murphy.
'I worked with him for almost five to six months in Obalende at the time, I also worked with Ososa Police Station. In 2021, I called Inspector Ola to ask if he has a gun for sale, which he said a pump action gun was available and I went to him as usual and bought it for N350,000." John said Ola instructed him to ensure he obtains a licence for the weapon because he does not want any issue and that he got a licence for it when he bought it. He continued, "After a month, I called Inspector Ola that I had got a licence for the gun.
He told me he obtained the licence for the gun for N100,000 in Abuja though through a proxy who was an hunter, called the leader of Elephants' hunters in Lagos." John however told the Police during his interrogation, "when I was then working with both DPOs at Ososa and Odogbolu, whenever I have jobs I take it to Obalende at times. There was a time we arrested a rapist which we brought to Eleweran Police Headquarters, and also arrested five elderly persons beheading their victims, we were still picking them one after the other when DPO Obalende was deployed.
It appeared he was on the case of ritualist and kidnapping, he thought it was the same case that was being treated in Ososa. Meanwhile, we just began investigating the matter, it was then Oga Murphy arrived and started saying he wants to move the case to his station, so both DPO were at loggerheads, with the DPO Ososa Police Station.
How my problem started
He claimed that his ordeal began on Thursday, 10th of August, at about 11:00pm, when he was having fun at a beer parlour around trailer park in Ososa, because he had recently bought a Muscle Camry car from the proceeds of his involvement in fraudulent activities. John said, "If I serve as a middleman, at least I use to get millions from the proceeds in the range of 15 or 20 percent of the deal. Sometimes, I get N800,000 or N1,000,000, N200,000 and I still trade in BTC.
"I was arrested on Thursday, the fourth day after I bought my vehicle, when I was processing the vehicle licence. I bought the vehicle in Abeokuta for N2,950,000. I was called by one Mr. Jonathan, who owns a beer parlour, that a customer was fighting with his salesgirl. The attacker was about running away when I got there, and I asked him why he injured the girl? I also slapped the man and ordered him into my car and drove him directly to Ososa Police Station, where he and the girl were questioned."
He said upon leaving the station, he drove the girl and her boyfriend to an hospital for medical attention. But he said while returning with the salesgirl and her boyfriend, something happened. "Before I left home, there were 32 cartridges that had been expended three months earlier, that where meant to be refilled and I had kept it in a nylon bag in the car.
The cartridges had been expended at different occasions, such as at ceremonies at palaces, work duties, and at some occasions where we use to shot at least two into the air to scare thieves from invading the event places or when we are on night duty, because there are also some houses in Ososa that I watch over and get paid and I use the money to pay about 10 workers of my security team.
"The expended cartridges were in the nylon bag with the intention of giving them to some hunters who usually do refill, while the cut to size gun was beside it and four extra cartridges which I usually keep with myself for personal protection. "As I finished from the hospital around 11:40p.m, I was returning the girl, as I drove to the junction where they alighted from my vehicle and beamed my headlamps I saw a parked Sienna and I drove into a road where I parked so that I could identify who the occupants were.
Four torchlights were switched on towards my direction and I immediately drove into the road where those I dropped where heading toward, in order to link another road, but I came down from my vehicle and walked backwards. By the time I had walked to a place where some Area Boys were seated I asked them who where those at the junction and they told me they were policemen and I realised they were from Obalende Police Station and by the time I walked to my car, the Police had opened my vehicle doors and booth.
As I was explaining to the officers that I was the owner of the car, they started beating me and they took me to the Area Commander. "I told them I ran into the bush because I was scared, because I didn't know if those in the Sienna ahead of me were armed robbers or Police. Not quite long the DPO at Obalende came in and revealed that there was robbery at Expressway, and I said that I don't know anything about it. In fact, the police arrested the girl I rescued on that day.
We were all taken to Obalende Police Station, the next day, Mr. Jonathan came to inform the police that he was the one who called me to intervene in a fight on the day of my arrest, but the Police accused me of engaging in robbery on the Highway, but I denied the allegation.From there, I was taken home for a search and the Police recovered all the guns I had bought and other items."
He said his relatives are now aware that he is being held in Police custody, and that they've tried their best for him to get him out. But appealled to the government, "I do not have the right to use firearm, let the gov- ernment assist me because I have learnt my lessons. I promise never to use guns without licensing it.
Police react
Meanwhile, the Ogun State Commissioner of Police, CP Alamutu Abiodun, has ordered that his men should go after the remaining suspects. The police said residents of Obalende will now sleep well with their two eyes closed because of the arrest of John.
According to the Ogun State Police Public Relations Officer, SP, Omolola Odutola, John was sighted in a Toyota Camry driving inwards Ijebu-Ode from Ososa, as soon as he sighted the Police while trying to negotiate the Ijebu-Ode highway, he diverted into a close, the Police chased him, but all the occupants scampered into the bush, the ACP divided the team into a cardinal search during which, a disguised man on VGN uniform who was the alleged mastermind of several nefarious crimes, attempted to outsmart the policemen, but he was arrested.
The police spokesperson said when a search was conducted on the vehicle the suspect earlier abandoned, a black cellophane bag containing 32 expended cartridges were recovered among other exhibits, including 78 live cartridges and a locally fabricated shotgun.
When a search warrant was also executed at his residence, a Magnum Pump action rifle, 1 double barrel shotgun, 1 locally fabricated double barrel pistol, stunt pistol chocker, an unregistered silver colour Toyota Camry, Green colour, Toyota Sienna Bus KNN 58 TD OGUN, a liquid chemical, a black beret with insigna of Aiye confraternity, cannabis, hard drugs, ATM card, power bank, 2 Apple wrist watches, 2 cell Phones, charm were picked by the police as exhibits. The police also stated that he has made confessional statement which fingered an Inspector of Police he simply named Ola from whom John said he procured guns.