16 political parties on merger talk with ADP to dislodge ruling party, APC
Political parties have begun permutations to unseat the ruling All Progressive Congress (APC) in the 2023 general election
The Action Democratic Party (ADP) recently penned an agreement to merge with 16 political parties ahead of the 2023 polls
However, the leadership of the party says all is in place to ensure the party fields the right candidates to challenge the ruling party
Abia, Umuahia – The quest and agenda to unseat the ruling All Progressive Congress (APC) in the 2023 general election is fast becoming a reality.
Punch newspaper reports that the Action Democratic Party (ADP) has intensified moves to unseat the APC after agreeing to a merger with 16 political parties.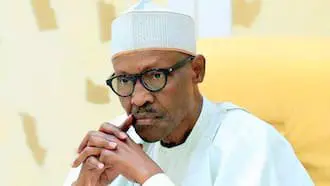 This announcement was made known by the ADP national treasurer, Okey Udoh in Umuahia, the Abia state capital.
According to Udoh, a Memorandum of Understanding (MoU) has been penned to legalize the process.
Udoh however revealed that the party can stand on its own, he stated that the party alliance with other parties will not distort the party's norms and values.
He further stated that one of the major essences of this partnership was to encourage and attract researchers to study the African model of democracy.
Udoh said the party is looking to set up an African Diplomatic Institute to further encourage political research and, researchers.
We will adopt consensus candidacy – ADP
He however revealed that the party will be adopting the policy of consensus candidacy to select its flag bearer for the 2023 presidential election.
The national treasurer of the party revealed that the reason for a consensus candidate was to ensure there is no atom of a rift between party faithful as prevalent in other political parties.
He further disclosed that the state has concluded its state congresses as well as its local council congresses while the consensus selection will be held in July.